These days content writing is the popular profession and if you are planning to go for a content writer interview or you are hiring someone to do the job for you, this blog is what you need to read before. We have compiled the list of the top 25 web content writer interview questions which will give you double confidence for cracking a milestone.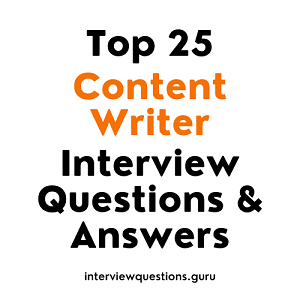 Web Content Writer Interview Questions and Answers
What are some various forms of content writing?
There many forms of content writing some of them are
Journalistic/news writing/ newsletters.
Blogging.
Company Website.
Creative writing.
Expert, or industry writing.
Web content.
Technical Content.
Ad and sales copy.
Product Review.
Social media.
When did you start writing?
It was always my habit of scribbling things from my young age. When I had maturity in my writing, I thought of making it my profession. Then I started reading pages on the web and persuaded my career in this. You can share your story about how you have come across a love for writing.
How to prepare for a first job interview – quick guide & checklist
What formats are you comfortable writing in?
This question raised by the interviewer is to assess the writing techniques you are most familiar with, you can answer as per your portfolio and job description. You can answer like, I like to write technical content and product reviews.
How do you plan and schedule your work?
Planning is very important in any work to deliver quality work. Here are some of the steps which we can follow.
Understand the marketing goals.
Finalize the topic.
Prepare calendar dates when what should get published.
Research on the topic.
Write, proofread and publish the content.
Why we use infographics?
Infographics are informative illustrations and data visualizations that can be an annual report or can be some illustrated scene with important bullet points. The human brain process visuals better than the text, so today if any information needs to be shared with a huge number of people it should be visual, so it can be digested by the user easily. Some of the reasons we use infographics are
Infographics are a great way to tell visual stories.
Infographics are linkable.
Infographics can help to increase sales.
Infographics are entertaining.
Infographics are shareable.
Infographics help establish you as an expert.
Infographics are eye-catching.
What content management systems have you worked upon?
So for this question you share can share what all CMS you have worked upon. Here are some CMS which are popular and widely used.
WordPress
Blogger
Joomla
Drupal
Wix
Ghost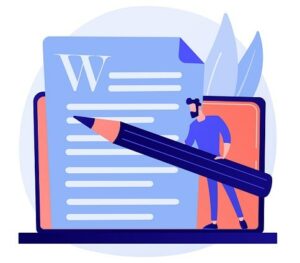 How can you improve your writing skills and grammar?
There are various ways listed below through which we can improve our writing skills and grammar.
Read more, so you can develop and get an idea of what effective writing looks like.
Practice writing daily.
Take classes or join some workshops so you can learn from experts.
Edit your writing or content regularly.
Ask for feedback from your friends and family.
Follow and learn basic principles of writing, grammar and spelling.
Don't delay writing. Get it done now.
Make sure you do adequate research on your topic.
Don't be afraid to express yourself in writing.
Which blogs do you read?
The blogs which are related to lifestyle have been my area of interest. The top blogs include- Oh my Gossip, Feel happiness, color me loud, and many others. The best thing about this kind of blog is following the new trends common in all age groups. Several category blogs are famous, and I follow them for my information.
Which is the recent book you have read?
The recent book I have read is First Things First by Stephen R. Covey. This book is based on teaching several things that would help in better entrepreneurship. This book shows that the quantity of work doesn't matter; what matters is the quality of work as time demands. There are several other things that this book has taught me and many others.
On which professional fronts have you worked?
I have worked with several organizations that work online and demand to manage via emails. On the other front, I have written articles for several companies that work with the proper office base. So, I am comfortable enough to work in any environment.
What according to you is most important in content writing?
The content written should not be copied in any way possible. So, every writer needs to ensure that the content is written uniquely.
What techniques do you apply to make your content valuable?
After writing the content, I believe in doing the cross-check of the material. There are several techniques like proofreading. Followed by it are several tools that check the integrity of the content. Then the necessary changes are made, and content is finalized. Furthermore, the article is made as per the new algorithms defined by Google and other search engines.
On which OS have you worked?
I have worked on Windows 7, Windows 8, Windows 10, Ubuntu, and I am well versed with them.
What kind of appreciation have you received for your work?
I have received certifications for my work, and I have mentioned them in my resume. There have been certain emails that describe the value of my work.
Describe your work in 1 line, if possible.
Work is the presentation of my capabilities.
Do you want a web writing career as your primary source of income always?
Source of income doesn't decide our career; it determines the way of living. I have chosen writing as my profession because I love doing so. And this is the reason it gives me income, not vice versa.
Content Writer Interview Questions
What do you do to research the target audience?
How do you integrate SEO into your content?
What is the most important part of content writing for you?
Name some content development tools you're familiar with?
How you do your keyword research?
Which tool do you use for keyword research?
Common Interview Questions
Tell me about yourself?
How to answer the "Do you have any questions for us" question in a job interview?
What are your strength and weaknesses?
Why do you want to be a content writer?
When you are available to join us?
Where do you see yourself in five years?
Why do you want to work with us?
Why did you decide to leave your last job?
Do you have any questions for us?
How to answer the "Tell me about yourself" question in a job interview?
Stay tuned for various other interview questions, and you can write to us always for different kinds of queries.