We are happy to share with you today the most common Subway interview questions with tips and answers. As for many people around the world, a Subway Sandwich Artist is a first job experience in life, we will often refer to this position in our article. We will tell you what you need to know about Subway before proceeding to the job interview, we will guide you through a Subway application process and finally, we will have a look at Subway salaries.

Subway is an American fast-food restaurant chain, founded in 1965 by Fred DeLuca and Peter Buck in Bridgeport (CT). Subway offers its guests sandwiches, wraps, paninis, salads, desserts, and hot/cold beverages. In Subway's menu, we can also find special seasonal options, kids' menu, sides, bread, and many others. Depending on the location, some Subways offer also catering services, online orders, and delivery. In total, Subway is present in more than 100 countries, has over 41'000 restaurants, and hires around 30'000 employees.
Subway hiring process is usually quick and one- or two-step(s) only. A career path is clearly defined: from Sandwich Artist, through Shift Manager, Assistant Manager, Manager to Multi-unit Manager. All current job opportunities, as well as the application form, are available on the official Subway website (tab "Careers").
Below you will find the list of the 15 most popular 2022 Subway Interview Questions.
Subway Interview Questions
Why do you want to work at Subway?
Answer: This is one of the first interview questions to expect. Do not make an impression that money is your first motivation or that you are looking for any simple, not demanding job. Show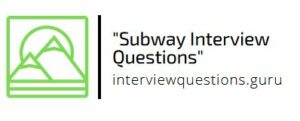 your interest in the dining industry, food making, dietetics, nutrition, or healthy lifestyle. You can also mention that you like working with people, having friendly relationships with your work team and the restaurant guests. Worth to mention, that Subway proposes much healthier menu options than another popular fast-food restaurant chain. This makes Subway special among other competitors and this can be an additional motivation for you to join the company.
What do you know about our products?
Answer: This is another, very popular Subway interview question. Knowing Subway product offers will increase your chances during the job interview, regardless of which job position you apply for: a Sandwich Artist, a Manager, or any other. Before the interview, check the current Subway menu and be aware that the menu can vary from region to region and change depending on the year season. The most important Subway menu options include:
Sandwiches – Subway offers a big choice of submarine sandwiches (so-called "subs"), with different types of bread and different ingredients inside, served cold or hot;
Wraps – a type of a sandwich, where a filling is rolled in a soft flatbread, usually served hot;
Salads and bowls;
Desserts and beverages – the most popular Subway desserts are cookies and muffins. Subway offer includes also hot drinks and sodas.
When talking about Subway products, remember that Subway's ambition to be an environment-friendly company, supporting local programs and communities and promoting a healthy lifestyle and good eating choices. These goals are also reflected in Subway products (product origins, balanced meals' nutritive value, etc.).
What is Subway's flagship product?
Answer: The Subway's flagship product is the Submarine sandwich ("sub"). These are the sandwiches made of a baguette cut lengthwise with meat, fish, egg, cheese, vegetables, and sauce inside served cold or hot. Subway's clients can choose between many different types of "subs". Subway menu changes regularly, can include regional and seasonal options but the most popular sandwich is from a long-time Italian B.M.T (a sandwich with salami, pepperoni, and ham). B.M.T stands for "Big. Meaty. Tasty" (source: www.subway.com).
What is your favorite Subway product?
Answer: Another great example of popular Subway interview questions. Thanks to this question, you can easily gain some extra points during the interview and show your future employer that Subway is the brand that you already know and like. Feel free to list a couple of your favorite meals. If you are not familiar with Subway's menu offer, we strongly encourage you to visit one of the Subway restaurants before the interview and experience Subway's food, the atmosphere, the customer service, etc.
How do you understand the role of a "Sandwich Artist"?
Answer: A Sandwich Artist is one of the most popular positions at Subway. If you apply for this position, be prepared to answer this question. If you apply for any other position, still you can expect this or a similar question, as Sandwich Artist is one of the most important concepts introduced by Subway.
For Subway, making sandwiches must be an art. A Sandwich Artist's main responsibilities are sandwich and other meal preparation, welcoming guests, maintaining the workplace clean and safe, and handling special orders. Sandwich Artist's role is very important and contributes directly to the company's success. Sandwich Artists have a direct influence on customer satisfaction, customer retention, the company's income, and the whole brand image.
Which of your skills will help you in this job?
Answer: This is the next example of guaranteed Subway interview questions. Most of Subway's jobs do not require any sophisticated skills but still, there is a specific set of skills that will be very helpful when working in a restaurant and providing customer service. Think which from the following skills you represent: customer-focused, friendly, communicative, dynamic, enthusiastic, timely, self-disciplined, task-oriented. During the interview, try to bring some examples confirming these skills.
What are your biggest strengths?
Answer: In the above question we have listed some of the most helpful skills. Depending on the job position which you apply for, other skills may be also a great strength. For example, if you want to become a Sandwich Artist apart from being customer-oriented, self-disciplined, and dynamic you may also mention your interest in nutrition and well-being, health and safety training which you completed recently, previous experience in another casual dining restaurant chain, etc.
What are your biggest weaknesses?
Answer: Everyone has some weak points but during the interview, such a question is always more or less tricky. Being aware of your weaknesses and constant internal work to overcome them is already a big success. The number of weaknesses which you will describe in this question, should not exceed the number of strengths from the question above.
Try to find some weak points which in fact will also have a positive aspect. You can say for example: "I have always been a very task-oriented person. I like to get things done as soon as possible. If I do not see the results of my work for a longer time, I quickly get demotivated and lose interest in what I am doing". If you apply for a Sandwich Artist position, such weakness can be seen as an advantage. The work on the sandwich chain guarantee that you will see your work done and the company will be happy to have a fast working employee.
What is your work experience?
Answer: Do not be afraid, to be honest. Work experience is often not required and Subway has been the first job experience for already thousands of people around the globe. If you have already worked in a restaurant, describe shortly the restaurant's profile and your responsibilities. If you have experience but from another industry, in your answer, try to focus on the things in common (for example customer service, working in shifts, working on weekends, etc.). If this is supposed to be your first job and you do not have any professional experience, find some examples from a school or university life which will prove that you are reliable, fast-learning, and motivated.
Do you have experience in customer service?
Answer: This is another often asked Subway interview question, especially during the interviews for a Sandwich Artist position. Again, if you do not have experience in this domain, do not hide it but at the same time, highlight some of your skills which can show that even without proven experience you will be successful in this field.
Do you have experience in working under time pressure?
Answer: When answering this question, you do not need to refer to your past work experience, especially if you do not have any. Think about any recent situation which you handled successfully even though you were in a rush and under time pressure. There are many techniques to manage such situations without a need to compromise on safety and quality and without getting burnout. You can check this article to learn how to work better under pressure. Knowing these strategies will help you to better deal with such situations in the future.
How will you handle a conflict with a difficult customer?
Answer: There are many ways to de-escalate the conflict and transform an unsatisfied customer into a happy one. Usually, a good start is to simply listen to what a customer has to say. It is possible that the whole dispute is a result of some misunderstanding or that we were not able to step into the customer's shoes and understand his/her point of view. Ignorance, frustration, or anger will never help. In a conflict situation, it is always good to show empathy and to focus on the problem resolution instead of searching for the person guilty.
One more thing to remember is that such conflicts should never be taken personally. Otherwise, they will not only make you feel worse but also undermine the whole team's morale and reflect negatively on the next customers.
What are your opinion about health, safety, and sanitary rules?
Answer: Health, safety, and sanitary procedures should be very important for every Sandwich Artist and Shift Manager, but in fact, for everyone. Safety is one of the core values at Subway. Keeping your workplace clean and tidy, paying attention to the cleanliness and safety in the dining area, thinking of the safety of your co-workers will be a part of your job responsibilities at Subway.
What are your requirements regarding the work schedule?
Answer: It is always a very important Subway interview question and often turns out to be decisive. Be honest and specific. If you have already some commitments (school, studies, bus schedule, babysitting your younger siblings, etc.) mention them all. The work schedules in the companies like Subway are often complicated, irregular, dynamic and include usually work in shifts, on weekends, on national holidays, and sometimes even nighttime. Usually, the more available and flexible you are, the bigger chances you have to get the job.
What culture would you like to work in?
Answer: Before answering this question think about what kind of atmosphere you would like to work in. Subway employees often mention friendly relationships at work, positive attitude, safety, and the importance of teamwork. However, you can also bring some other values and behaviors which you think may be beneficial for the company for example a healthy competition.
Do you feel like needing any special training from Subway?
Answer: Subway provides mandatory introduction training for all new employees. Do not hesitate to specify which topics you are most interested in, for instance: safety. If you hope for a longer career at Subway, think about the future training which may help you to upskill and get the desired position, for instance: leadership training.
Where do you see yourself in 2 years?
Answer: If you do not apply for a summer (or any other time-bound) job offer, there are chances that your employer is looking for a person who wants to work longer than a couple of weeks or months. Take a moment to think, who you would like to be and what you would like to do, at Subway 2 years from now. Subway has a clear career path and offers several different positions: starting from Sandwich Artist, through Shift Manager, Assistant Manager, Manager, and finally Multi-unit Manager. If you start as a Sandwich Artist maybe your goal can be to become a Shift Manager?
This was the last Subway interview question which we prepared for you this time.
Subway salaries
Salaries at Subway depend mainly on your job position. As per Indeed.com, in the U.S., in 2022, Sandwich Artist's salaries start from around $9/hour and can go up to around $10 or even $11/hour. For Managers, the salary will generally oscillate at around $13/hour.
Thank you for staying with us till the end of this article. We hope that you found it useful. Please leave a comment and share with us your Subway interview experience. Thank you!
Other Resources that may help to clear the job interview
Things to Do Before During First Job Interview Tips & Checklist