The fast-food industry is growing every day, and there are a lot of jobs. Preparing for the job interview, you must go through Fast Food Interview Questions and answers. We know that competition is intense and interviews are stressful, do not worry with a small amount of preparation, you will be clear about the interview. We have accumulated all the Fast Food Interview Questions that you can expect.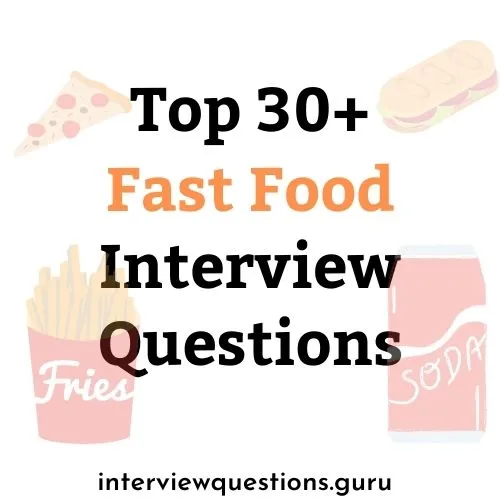 Fast Food Interview Questions and Answers
We will be sharing sample answers which can help you to formulate your answer correctly.
Common Fast Food Interview Questions
Tell me about yourself?
This is one of the most common questions asked everywhere, share briefly about your interests and hobbies. Try to focus your answer on your current role and responsibilities you are having and the past work-related experience you have.
Describe yourself in 5 words?
You can use words like Ambitious, Bold, Confident, Dependable, Diligent, Enthusiastic, Ethical, Extrovert, Friendly, Honest, Imaginative, Innovative, Inspirational, Loyal, Flexible, Leader, Reliable, Versatile, Visionary, Social, Positive.
Why do you want this job? Why I should hire you?
You can mention here the skills and experience which you have attained and relevant to for the job profile. You can also share what you can add to the business.
If you are fresher then you can share your qualities that you are a hard worker, learn things fast, flexible with the timings, hungry, and ready to get started.
What are your strengths?
This question is asked to explain why you are the best person for the job.
You must state your strength.
You must share the proof of your strength.
You must explain why your strength is relevant for the job.
What is your weakness?
You should never deny the weakness, if you have any then you must share it which is not relevant to the role or the work you will be doing. When you share your weakness make sure that you should also explain how you will overcome this.
What are your hobbies?
These are the easiest questions you can answer with your hobbies. My hobbies are
Reading books.
Blogging.
Playing sports (football, tennis)
Traveling.
Cooking.
Drawing, Painting, Sketching.
Have you worked in a team atmosphere?
You can share your experience from your past job or from a school or as a volunteer you have worked.
Advantages of teamwork
Increase productivity.
Boost morale and motivation.
Learn faster.
Encourages to take healthy risks.
Relives stress.
Generate ideas.
How do you deal with conflict?
To answer this question you need to break the answer into the following points
Briefly describe the situation and origin of conflict.
What is your role in this conflict?
Explain how you have approached this conflict.
Share the positive outcome.
Describe your dream job?
Describe your job based on your skills and describe the qualities of the job like
Good environment.
Company.
Fair pay.
Stability.
Training.
What can we expect from you in your first 90 days?
In the first 90 days, you can expect the following from me
To be punctual and arrive at work on time.
Complete all the necessary training.
Fully integrated with the job role.
Create professional relationships within the whole team.
Do you have any questions for us?
You can ask questions like
What would be the day-to-day responsibilities?
Would I get initial training?
Does this position involve working overtime?
For more Best Questions to Ask Interviewer
Company Related Interview Questions
Why do you want to work in the fast-food industry?
Example Answer: The opportunity to work is available in the fast-food industry and the most important part of this industry is that I will be able to learn customer service, manage time correctly, provide food quickly and efficiently, communicate, relationship with customers.
There are other questions that you can expect from the interviewer given below. So before you go for the interview, check the company about page or read the Wikipedia page of the company; this will be a plus for the interview and the interviewer will know that you are interested in their company.
What can you tell us about our company?
Who are our competitors?
Who is the founder of our company?
When was our company founded?
Why do you want to work for our company?
How did you find about our company recruitment?
Resources
Previous Work Related Interview Questions
Why did you leave your previous job?
Example Answer: I resigned from my last job to find a job that is closer to the home and offers professional growth and work opportunities. I was not having enough room to grow while working for my previous employer.
How was your attendance in your last job?
Share how many hours you were working a week and if there was some absence from work, explain your reasons.
What did you enjoy most in your last role?
Some of the answers you can give.
There were challenges that helped me to grow.
Work-life balance.
Collaboration between the teams was good.
There was a multi-cultural environment.
Try to focus your answer much more on work rather than people and explain how it has prepared you for this job. Explain why the job conditions are better in the new job.
Make sure that your answers do not conflict with the answer for another question "what do you dislike about your last role".
What did you dislike about your last role?
Do not bad-mouth the previous employer or employee, be honest.
Example Answer: To reach the last job I have to spend 2 hours in transportation which is not productive for me and due to which I was not able to learn new skills and opportunities were limited.
Check the list of fast food restaurant chains
Customer Service Interview Questions
What type of customer service experience do you have?
How would you define excellent customer service?
Share the customer behavior that annoys you?
How you will deal with an angry customer?
How you will deal with unsatisfied customers?
What kind of experience do you have in the fast-food industry?
Describe your typical day at work?
How would you describe hospitality?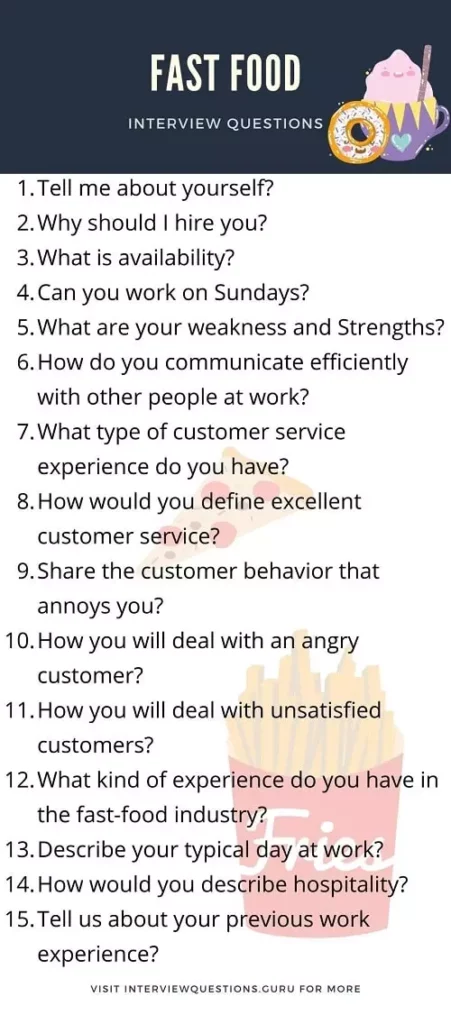 Do let us know if you have gone through any fast food industry interviews and share your experience and fast food interview questions that were asked to you.