Taco Bell is a fast-food chain that has been around for over 50 years. They have grown to be one of the most popular Mexican-style restaurants in America, with locations all across the country. In addition to their delicious menu also provide employment opportunities for those who want them with positions ranging from cashiers and cooks to restaurant managers.
This blog post will share 30 common Taco Bell interview questions and example answers with you, so prepare before you go in for your interview!
Taco Bell Interview Questions and Answers
Who was the founder of Taco Bell?
Glen Bell
What is your favorite taco?
The interviewer asks this question because they want to know if anything on the Taco Bell menu might make you uncomfortable about working there. Try to mention something tasty, such as the Gordita Crunch.
Answer: I don't have a favorite because I enjoy trying different options. But, if you are asking me to pick one, I would say that my current go-to is either an XXL Grilled Stuft Burrito or anything with Doritos Chips on it!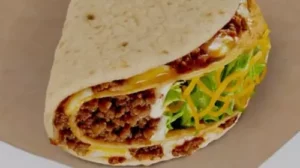 How does this job relate to your previous experience?
Taco Bell wants to know if you're a good fit for their company and vice versa. If you haven't had any relevant work history before, be honest! They want to know what you're capable of, so show them!
Answer: I was a cashier for my local grocery store. I am a good fit because a cashier's job is similar to what I would be doing here.
How would you describe Taco Bell in one sentence?
This question tests how well you know the company. Plus, it's a fun one to answer!
Answer: Taco Bell is the best place for Mexican-inspired food in America. They have excellent customer service and provide opportunities for those who want them!
What do you think sets Taco Bell apart from other Mexican-style restaurants?
The interviewer wants to know what they can do better than their competitors.
Answer: Well, so many employees work hard each day to ensure that you receive the best service possible when visiting Taco Bell. The food is also made fresh and never pre-made!
Why are you interested in working for Taco Bell?
Taco Bell wants to know that you are willing to go above and beyond for them, so show them!
Answer: I have always loved fast food restaurants because they're great places to serve others. And with Taco Bell being one of America's favorite Mexican-style restaurants, it seemed like a great fit!
What are your strengths?
Taco Bell wants to ensure that you can handle the tasks they'll throw at you, so mention some specific skills.
Answer: I have excellent communication abilities and am always willing to lend a helping hand! Also, I'm very good with numbers which means there won't be any errors when counting the register!
What are your thoughts on teamwork?
Teamwork is essential at Taco Bell, so they want to know if you can work well with others.
Answer: I think teamwork is key! When everyone chips in and works together, it creates a much more favorable environment for the customer and employees. Plus, it just makes everything run smoother overall.
How would you help the shift run if someone called in sick?
Taco Bell wants to know if you can take on extra responsibility when needed.
Answer: I would be willing to work a double shift if needed. But, even if that's not an option, I would take on whatever tasks need to be completed for the restaurant to run smoothly!
30+ Leadership Interview Questions to Ask
Are you currently employed? 
Taco Bell wants to ensure that you're not currently employed elsewhere and are only looking for their job because it's the best opportunity.
Answer: I am currently employed, but I am looking for a new job because I want to work in an environment where I can share my passion for Mexican-inspired food!
What's your availability?
This question tests how flexible you are.
Answer: I am available anytime that Taco Bell needs me! I'm willing to work weekends, holidays, and even overnight shifts. I can constantly adjust my availability depending on what works best for the restaurant and the team!
What's your favorite thing about working at Taco Bell?
Taco Bell wants to know that you're excited to work for them, so be enthusiastic in your answer.
Answer: My favorite part of working at Taco Bell is seeing all the smiles on customers' faces when they receive their order! It makes all the hard work worth it!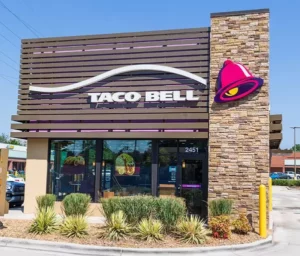 Do you have reliable transportation to and from work on time every day?
Taco Bell wants to know if you can arrive on time and stay until your scheduled shift is complete.
Answer: Yes, I have reliable transportation and can always arrive at the restaurant within 15 minutes of my shift start time! And if there's ever an emergency or issue with my commute, I'm more than happy to adjust my schedule.
Why should I hire you instead of someone else who has applied for the same position as you?
This question tests how well you know yourself.
Answer: I have a great passion for Mexican-inspired food and am always willing to go above and beyond for my team. 
Plus, I have years of experience in the customer service industry that I can bring to the table. So, in conclusion, I think I would be a great addition to the team!
Interview Questions on Experience and Skills
What experience do you have in the foodservice industry?
Taco Bell wants to make sure that you have some experience in the industry before hiring you.
Answer: I've been working in the foodservice industry for about six years now. I started as a cashier, but I've worked my way up to becoming a shift leader over time. So, I have a lot of knowledge and experience when it comes to working in a restaurant.
What skills do you have that would make you a good fit for this position?
Taco Bell wants to know if you have the skills needed for the job.
Answer: I think my ability to stay calm under pressure and handle difficult situations would make me a great fit. I'm also great with numbers, so there won't be any errors when counting the register! And finally, I have excellent communication skills, which means I can handle customer inquiries quickly and efficiently.
What types of software do you work with regularly and why?
The question is about your tech skills so in answer mention all the software which can help you in the job.
Answer: I have a working knowledge of POS systems in general. I'm pretty good at any software program since they all have a similar setup and format. So if there were ever an issue with the POS or something else within the restaurant, I would be able to jump in and help out.
Can you tell me about a time when you went above and beyond your job duties?
This question tests your work ethic.
Answer: Yes! I remember when the restaurant was bustling, and we were short-staffed. I helped with dishes, cleaning, and preparing food even though it wasn't my job duties. And the best part was that my manager noticed and praised me for it!
What would you do if several customers came into one line?
Taco Bell wants to know that their team members can handle any situation, so show them!
Answer: I would ask each customer how they're doing and take their order. It's essential to be able to multitask in this type of environment!
Interview Questions on Customer Handling
Which taco would you recommend to a customer?
Taco Bell wants to know if you can recommend a product.
Answer: I would recommend Crunchy Taco because it's one of our best sellers! Many other menu items are just as tasty, so I'm happy to help with any customers' questions.
30+ Customer Service Interview Questions
What type of customer service have you received from Taco Bell?
This question tests your customer service skills.
Answer: I've always had great experiences with the customer service at Taco Bell! The employees are always willing to help, and they have a great sense of humor which makes the experience more enjoyable. Plus, I love how interactive the menu is- it's like having my taco chef right in front of me.
How would you deal with a situation in which a customer is unhappy with their order?
Taco Bell needs to make sure you can handle an unhappy customer.
Answer: I would apologize for the inconvenience and offer them a refund or replacement item right away! Then, if they weren't satisfied with that either, I'd do whatever it took to get their experience back on track so they could enjoy themselves while at Taco Bell.
Most Asked Taco Bell Interview Questions
Do you have any cooking experience?
Taco Bell wants to know if you have any experience with cooking.
Answer: No, I don't have experience with cooking, but I am willing to learn, and Taco Bell is the perfect place for me- there are plenty of other employees who do, and they're more than happy to help out when needed. And even though I may not be an expert chef just yet, I'm always willing to learn and try new recipes.
Why do you think cleaning is necessary?
This question tests your work ethic.
Answer: Cleaning is essential because it keeps the restaurant looking and smelling fresh, making for a better customer experience overall. Plus, it shows that we take pride in our work, and we're willing to put in the extra effort to make sure everything is just perfect.
What are your best cleaning tips?
Taco Bell wants to know if you have any cleaning tips.
Answer: One of my best tips would be to start with the most visible areas to customers- like the front counter and registers. That way, it'll give off a good impression right from the start! And, as far as actual cleaning goes, I always make sure to start with the dirtiest area first so that way I can use it as a guide for where else needs some extra attention.
What do you know about Mexican cuisine?
This question tests your knowledge of Mexican cuisine.
Answer: I know that Mexican cuisine uses fresh, authentic ingredients to create flavorful dishes. There's a lot of variety within Mexican cuisine, so there's something for everyone! I'm looking forward to trying out some new menu items on my next visit.
Frequently Asked Questions
How do you pass a Taco Bell interview?
The best way to pass a Taco Bell interview is to be prepared and know your stuff! Make sure you're familiar with the menu, cleaning tips, and customer service procedures. And, most importantly, be yourself- the interviewer wants to get to know you as a person, not just as a potential employee.
Do Taco Bell employees get discounts?
Taco Bell employees do get benefits. Taco Bell offers all of its employees the opportunity to receive a discount on both food and clothing! They also provide excellent health care plans to help pay for doctor's visits or prescription medications. And maybe best of all every employee gets free meals while working!
Is it hard to get a job at Taco Bell?
Taco Bell is looking for friendly people who like to smile- and that's about it! Taco Bell does its best to ensure every potential new hire has a good experience, whether they get hired or not. So definitely keep an open mind and be yourself during the process, and you'll do great!
What is the interview process like at Taco Bell?
The interview process at Taco Bell usually starts with a phone call. The interviewer will ask you questions about your experience, menu knowledge, and availability. They'll invite you for an in-person interview if they're interested in moving forward. It is where you'll have a chance to meet the team and see if the restaurant is the right fit for you!
What do employees at Taco Bell wear?
The typical uniform includes black pants and an orange shirt. The best part about the employee wardrobe is that it's completely free- as long as you're willing to pick up after yourself, of course. It is not bad considering most fast food joints require their employees to purchase their uniforms.
How does an employee advance within Taco Bell?
The best way to advance at Taco Bell is by being a team player. If you're always looking for ways to help out and go the extra mile, your superiors will take notice. 
From there, it just depends on what type of position you're interested in and whether or not Taco Bell has any openings at that time. But don't worry, there's always a chance to move up and plenty of opportunities for those who are willing!
When should I expect to hear back from the interviewer after my in-person interview with them?
The interviewer should contact you within a few days after your interview to tell you whether you were successful. If they decide to offer you the job, they'll give you all the details on when and how to start! But if you don't hear back for some reason, it's always best to follow up with them directly.
What is the most important quality that Taco Bell looks for in its employees?
The number one quality that Taco Bell looks for in an employee is a positive attitude. No matter your position, if you're always looking on the bright side and keeping a smile on your face, it's guaranteed to be noticed! Plus, this will make working at Taco Bell a lot more fun.
References
Conclusion
We hope we have provided you with the best interview questions for Taco Bell. If you can answer these questions confidently, you have what it takes to be a part of the Taco Bell team! Good luck with your interview.