Planning to give the ServiceNow CIS ITSM exam to grow in your as ServiceNow professional then you are on the right page, In this article, we will share ServiceNow CIS ITSM exam questions or ServiceNow CIS ITSM Dumps to help candidates to get an idea of what kind of questions they can expect in the exam and we will also try to clarify all the queries a candidate have before giving the exam.
ServiceNow CIS ITSM is abbreviated from ServiceNow Certified Implementation Specialist – IT Service Management Exam is to certify the skills and knowledge a candidate should possess to implement, maintain, configure and upgrade ServiceNow ITSM applications. Below 25+ ServiceNow CIS ITSM exam questions are gathered from the experience of candidates who have given the exam and also created from the topics which are part of ServiceNow ITSM Fundamentals and Implementation.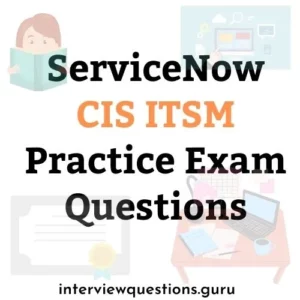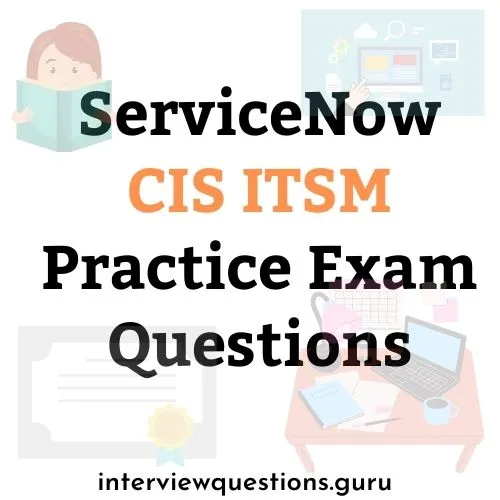 ServiceNow CIS ITSM Exam Questions
Incident Management
In base instance configuration, after 7 days of resolution of an incident what happens?
The incident is automatically moved to a closed state.
A notification is sent to the assigned user-requested review of the incident record.
A post-incident report is automatically created.
A notification is sent to the assignment group manager requesting a review of the incident record.
When can a user (who has no assigned roles in the system) close an incident?
When the user is the Caller and the incident's State is Resolved.
When the user is the Caller or on the Watch list and the incident's State is Resolved.
When the user is the Caller and the incident's State is not already closed.
When the user is the Caller and the incident's State is not already resolved.
Select the property which sets the duration of the auto closure function?
incident.close.time
ui.autoclose.time
autoclose.time
incident.auto.closure
Select of the property that enables the copy incident
snc.incident.copy.enable
incident.copy.enable
ui.incident.copy.enable
snc.incident.copy
What are the different ways to populate the assignment group in an Incident record? Select 3 Answers from the below options.
Through  Script
On-Call Scheduling
Data lookup
Assignment Rules
Problem Management
Which of the following ITIL terms refers to the cause of one or more incidents that are typically unknown at the time of detection?
Problem
Unknown Error
Issue
Configuration Item
In problem management, when using the communicate fix related link, which of the following conditions must be met for the fix to be communicated? (Choose three.)
The problem has an associated change request.
The Fix notes field is populated.
The incident is associated with the problem record.
The incident is in a State of On Hold with an On Hold Reason of Awaiting Problem.
The problem is in a state of Fix in Progress.
When creating a problem record from an incident record, which element defines the field mapping between the two?
Create Problem UI action
ProblemUtils script include
Problem created from system property (com.snc.problem.create_from_incident.attributes)
ProblemV2Util script include
Select of the property that enables to create a Problem Task on a Closed Problem?
snc.problem.closed.can_create_tasks
closed.can_create_tasks
problem.closed.can_create_tasks
problem.closed.can_create_tasks
What role is required to delete a problem record or a problem task?
itil
itil_admin
problem_manager
problem_coordinator
Which field becomes mandatory when you click on the Resolve button or update the state to Resolved on a Problem record?
work notes
close notes
fix notes
cause notes
Change Management
Conflict detection in change management can identify conflicts from which of the following reasons?
The change schedule is during blackout periods
The ci is not in the maintenance window
Existing scheduled changes to the ci
The change scheduled is outside of business hours
The changes schedule does not give the appropriate lead time
Select the property that enables Change risk calculation either through business rule or UI Action?
snc.risk_calculate_rule
ui.risk_calculate_rule
risk_calculate_rule
risk_calculate_rule
The Standard Change Template [std_change_record_producer] table is extended from the ____________ table.
Template [sys_template]
Task [task]
Change Request [change_request]
Record Producer [sc_cat_item_producer]
Request Management
Which one of the following is proper syntax for accessing values of variables from a Record Producer script field?
getReference('variable_name')
getVariable('variable_name')
variable_name
variable_name
Which of the following approaches is used to display a variable from a requested item on a Catalog Task form?
In the Catalog Task Activity within the Item's fulfillment workflow, write a script to retrieve and set Catalog Task field values.
In the Catalog Task Activity within the Item's fulfillment workflow, select variables to be displayed in the Variables on Task Form field.
In the Catalog item, set Cascade Variables to true.
In the Catalog item, set Display Variables in Catalog Tasks to true.
Primary tables associated with request fulfillment begin with the prefix _____________.
sc_
rm_
rf_
req_
Who can create additional ad-hoc tasks for a requested item?
The Requester
Caller
Service Desk
Any of the Fulfiller
Fulfiller with Permissions
Knowledge Management
Each time a knowledge article is viewed, a record with the user identity and whether the article was attached to a task, is added to which table?
Knowledge Use [kb_use]
Knowledge Feedback [kb_feedback]
Knowledge [kb_knowledge]
Knowledge Search Log [ts_query_kb]
In knowledge management, which conditions must be met before users can import Word documents?
The knowledge base must have the Enable Article Import field set to true.
The user must meet the conditions in the Can Contribute User Criteria for at least one knowledge base OR have the knowledge or knowledge_admin role.
The user must have one of the roles specified in the Knowledge system property "List of roles (comma-separated) that can import Knowledge Articles".
The user must have the knowledge or knowledge_admin role
What is glide.knowman.max_comments_per_user_daily property
Allows users to post feedback.
System property determines the maximum many feedbacks a user can post per day.
Max number of comments posted by all users.
The number of users who can post feedback daily
Select the property which enables the article versioning
knowman.versioning.enabled
snc.knowman.versioning.enabled
ui.knowman.versioning.enabled
versioning.enabled
What type of notification allows users to know when knowledge articles are going to expire?
SMS
Email Notification
Agent Workspace
Portal Notification
Configuration Management Database
What data import feature should be used when importing Configuration Item data for services and servers?
Import Maps
Data Mapper
Transform Maps
Cascade Variable Maps
What is the base table for CMDB?
cmdb_ci
base_ci
cmdb
ci
Which of the following roles is allowed to create a new CI class?
itil_admin
itil
admin
cmdb_read
ServiceNow CAD Practice Exam Questions
Which property allows to set the maximum number of changes and relationship for a CI should appear in the baseline diff got the CI?
cmdb.baseline.max_changes
baseline.max_changes
snc.cmdb.baseline.max_changes
baseline.baseline_changes
Select the name of the table which is for accessories?
cmdb_ci_computer
cmdb_ci_acc
cmdb_rel_acc
cmdb_ci_ accessories
Which of the following CAB Workbench feature allows you to determine which changes are included in a CAB meeting using the filter criteria?
Scheduled Entries
Related Schedules
Refresh CAB Meetings
Agenda Management
Release Management
The content of a release is defined by the _______, and associated change requests that it implements.
Features
Release Phases
Release Tasks
Products
ServiceNow CIS ITSM Exam Summary
Exam Name
ServiceNow Certified Implementation Specialist – IT Service Management
Exam Code
 CIS ITSM
Exam Cost
USD 450
Number of Questions
60
Duration of Exam
90 Minutes
Passing Score
75%
Exam Format
Multiple Choice Questions.

Multiple Answers Can be Correct.

Learning Path/ Couse
IT Service Management (ITSM) Implementer

ServiceNow CIS ITSM Exam Preparation
Prerequisite
ServiceNow Fundamentals
ServiceNow Get Started with Now Create
ServiceNow Platform Implementation
CMDB Fundamentals
ServiceNow ITSM Fundamentals
ServiceNow ITSM Implementation
ServiceNow requires to complete the above necessary training or now learning course to be eligible for a CIS ITSM exam voucher.
It is recommended a candidate must undergo now learning self-paced training
Fundamentals
Agent Workspace Fundamentals
CSDM Fundamentals
Service Portal Fundamentals
Scripting in ServiceNow Fundamentals
Knowledge Management Fundamentals
ServiceNow Implementation Methodology (SIM) Fundamentals
ServiceNow Subscription Management Overview
Implementation
Knowledge Management Implementation
Major Incident Management Fundamentals
Major Incident Management Implementation
Agent Workspace Implementation
Recommended Experience
6+ months experience on ServiceNow Platform and Implementation of Modules. It will be the best user must know ServiceNow acronyms and terminology.
ServiceNow CIS ITSM Exam Pattern
| | |
| --- | --- |
| Topic | Weights |
| Incident Management | 25% |
| Problem Management | 15% |
| Change Management | 25% |
| Request Management | 25% |
| Knowledge Management | 5% |
| Configuration Management Database | 5% |
ServiceNow CIS ITSM Passing Score
There is a passing percentage in the ServiceNow CIS ITSM Exam that is 75% which means 45 questions out of 60 must be marked correctly. The exam will consist of 60 multiple choice questions and there can be multiple answers correct for one question.
ServiceNow CIS ITSM Certification Cost
ServiceNow CIS ITSM certification cost is 450 USD + Tax which you can register through https://www.webassessor.com/SERVICE_NOW
ServiceNow also offers instructor-led training which you can register here and then an exam voucher is provided. Most of the companies have partnerships which ServiceNow where training is provided based on that, please check with your company if they provide such training. You can register for ServiceNow Training at ServiceNow Training and Certification
ServiceNow Implementation Specialist Salary
A ServiceNow Implementation Specialist can get up to 100,000 USD per year. Depends on the job location and additional benefits.
Disclaimer: The above questions are gathered from candidate experience and reviews, we do not claim that the above questions will be appearing in the exam set.