Are you looking for a job as a receptionist? Do you want to be the best prepared for your receptionist interview and maximize your chances to get hired? You are wondering what the typical receptionist interview questions are and what would be the best way to answer them?
If yes, you found the right place! This article is dedicated to you, no matter what kind of position you are interested in: front desk receptionist medical receptionist, veterinary receptionist, hotel receptionist, gym receptionist, corporate receptionist, etc. No matter where you plan to work, the role of a receptionist is always of the same importance, same time and cost-saving, and the same crucial for the company's image.
Let us guide you through the interview preparation process. Check the practical tips on how to prepare for a receptionist interview, the most popular receptionist interview questions and answers, and 20 the most common interview questions which you can expect in every interview, no matter what position and what company you apply for.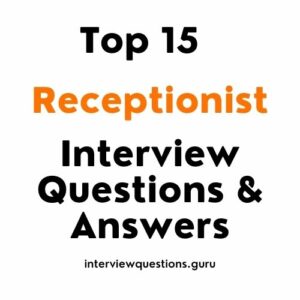 How to prepare for a receptionist interview?
All that you need to know about how to make the best first impression on your potential employer is now available in one place – check our Job interview preparations full guide & checklist. You can also follow the below 7 steps instruction:
Research the company.
Read carefully again a job offer and a job description.
Prepare your
Choose an appropriate outfit.
Plan the route and make sure that you will arrive on time.
Prepare a short presentation about yourself.
Practice your answers to the most popular receptionist interview questions.
Prepare your own list of questions to ask in an interview. Not sure what to ask? Have a look at 50 unique questions to ask the interviewer.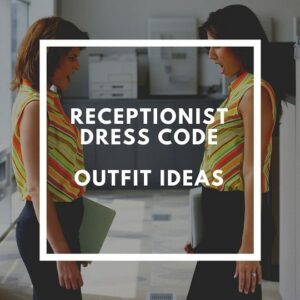 Receptionist Interview Questions
Tell me about your experience as a receptionist. If yes, what were your main responsibilities?
This is one of the first receptionist interview questions to expect. It looks like a straightforward question, on which you can answer "yes" or "no" but even if you are looking for a first job and you don't have any professional experience so far, you still have chances to get hired. Many receptionist jobs are entry-level positions and all you need to have is a pre-defined set of skills (which we will discuss in one of the next questions) and confidence that you will manage to handle all receptionist duties.
If you already have experience as a receptionist, describe your responsibilities and skills. If you see the interest from the interviewer's side, don't hesitate to go more into the details and specific, work-based examples.
Main receptionist duties:
Welcoming, greeting, and directing clients/visitors
Handling clients/visitors inquiries
Taking and transferring phone calls, e-mails, letters, etc.
Scheduling meetings
Managing security systems and building logs
Managing office supplies and deliveries
Handling paperwork and administration duties
Maintaining the reception desk clean and tidy
What are the most important receptionist skills?
Below you can find the main soft skills that are required to be a good receptionist.
Excellent communication skills
Excellent organizational skills
Excellent customer service skills
Problem-solving skills
Ability to work under time pressure
Ability to multitask
Resistance to stress
Attention to the details
Reliability
What do you like most about working as a receptionist?
This is one of the most frequently asked receptionist interview questions. A motivated receptionist who likes his/her job and comes to work with a smile on his/her face is a real treasure for a company!
Even though the list of receptionist duties is long, working days can be long, intense and, often, unpredictable, receptionist job has many advantages.
Being a receptionist is a perfect opportunity to meet people and build relationships. Receptionists also have a unique insight into the company's ways of working and structure. And finally, every day brings them a chance to master the organizational, communication and customer skills which are so important in the majority of the jobs and, for sure, will be helpful in your career growth.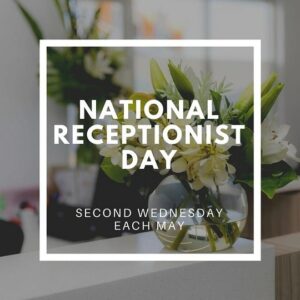 Is there anything you don't like about being a receptionist?
As it is in the case of every job position, working as a receptionist has also some disadvantages: stress, pressure, and monotony – these are just a couple of examples.
Before you start listing all the disadvantages and hardships of being a receptionist, keep in mind that a receptionist interview is probably not the best moment for that. Showing that you are aware of the less bright side of this job is ok but try to balance the number of advantages from the previous questions with the number of disadvantages.
A good strategy for answering this kind of questions is also to refer to your previous work experience and something which you didn't like there, but your knowledge, that in the company which you apply for, it will not be the case (for example old software, inconsistent security rules, lack of safety, etc.).
Do you like working with people?
Here, your answer must be "yes". If you prefer to work alone, if you are not sure if your communication and interpersonal skills are strong enough, becoming a receptionist may not be a good idea for you.
As a receptionist, you will not be able to avoid contacts with others. Every day, you will meet many people (co-workers, clients, customers, vendors, visitors, etc.). What is more, not all of them will be in a good mood and with a positive attitude. You should be ready to face a stress co-worker, an angry or dissatisfied customer, etc. But at the same time, you will also have a lot of friendly and grateful people abound who will appreciate your work and motivate you to continue doing a great job.
How do you organize your work?
How do you prioritize your work?
Tell me about your computer skills.
What is your word-per-minute rate?
What is your error rate?
What office equipment are you familiar with?
What is your experience with telecommunication systems?
How do you work under time pressure?
Tell me about the situation when you had to handle an angry customer on the phone?
What is your availability?
This was the last of our 15 receptionist interview questions. However, as already mentioned, apart from receptionist-specific questions, you can expect to get some of the questions below. The questions listed below are very standard and each of them can appear in almost every job interview, so no excuses for being unprepared. Don't let an interviewer surprise you with one of the below common interview questions.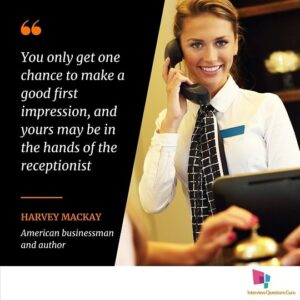 Common Interview Questions
Tell me about yourself.
Tell me about your work experience.
What are your biggest strengths?
What are your biggest weaknesses?
What sets you up from other candidates?
What motivates you to work every day?
How do you handle stress?
How do you work under pressure?
Tell me about your biggest achievement.
Tell me about a situation when you went above and beyond at work.
Tell me about a difficult situation and work and how did you handle it?
Why do you want to work for us?
Why should we hire you?
What are your goals for the future?
Where do you see yourself in 5 years?
Why did you decide to leave your current job?
What do you like most about your current position?
What do you like least about your current position?
What are your salary expectations?
Do you have any questions for us?

We hope that you found this article useful. If you have any suggestions or would like to share your experience with receptionist interview questions, write to us in the comment section below. Thanks in advance for all the Thumbs Up!