Yoga Teacher Jobs have been available in the market at different places in India. The yoga teacher interview questions that the recruiters ask are dependent on their interest and their style. Various kinds of questions are asked in a general sense in the exam. The following items are essential for the interview; you can refer to the possible and best answers.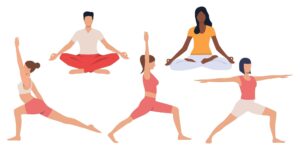 Yoga Instructor Interview Questions
How long have you been a yoga teacher?
Ans: It is never the quantity of experience that matters; the important thing is the concentration on the job you have interests. The quality of experience matters a lot. On paper, I have the experience of 10 years that I am teaching yoga to people.
How did you start teaching?
Ans: Several hardships in life made my mind so restless and me less patient. Moreover, some dragging force always compels you to choose something. After attending the Art of Living course once in my life, I found a sudden change in myself which resulted in me determining my career. I learned that I was born for this, which was the day I never looked back.
Example Answers to "Why Teacher?"
What style of Yoga do you teach?
Ans: My style of Yoga has no defined words and boundaries. In my opinion, the practice of Yoga lies in your mind and brain. And so the form of yoga relates to my foot, head, arms, stomach, lungs, heart, etc.
Who has been your mentor in your crucial stage of life?
Ans: My teacher in college name was Shailly Bhardwaj. She had a driving force capability that has always led me in the right direction. I had seen a family crisis wherein I went into mental distress, but she gave me all the power, and I moved ahead following Yoga.
What is the most significant change you have observed while practicing Yoga?
Ans: Let me tell you the real part of my life. During my job, I had a tough time throughout the day. There was no time to relax my mind and solve multiple issues. When I started yoga, my mind stayed at peace, and I dared to solve numerous tasks. Yoga helps to manage things so well that you can explain them easily.
What is the rewarding thing in this career?
Ans: When the people I teach Yoga to feel the change after doing Yoga, and they let me know when I think I am rightly doing things, which makes me feel rewarded.
Do you find any drawbacks to Yoga?
Ans: Yoga is the style/ practice that takes more time to affect you and your lives, but there is no such drawback.
How do you describe your life after Yoga?
Ans: Simple | Energetic | Lively
What is life beyond Yoga?
Ans: There is a fantastic world beyond Yoga including happiness, grief, various emotions, etc. Yoga helps to sort and handle everything in the best way. Yoga has the power to heal everything.
In your family, what have you done to promote Yoga?
Ans: My family practices yoga daily after my efforts to tell them the benefits of Yoga. My father does Yoga early in the morning, and my mother exercises it in the evening.
Other resources may help you to clear the Interview.
Other Yoga Teacher Interview Questions
How would you describe your yoga practice?
Are you comfortable leading classes remotely?
What are some of your favorite poses, and why?
Do you have any injuries or health concerns we should know about?
What inspired you to pursue a career in yoga teaching?
What do you think sets yoga apart from other forms of exercise?
What do you think are the benefits of practicing yoga?
What do you think makes yoga unique compared to other forms of exercise?
How did you become interested in yoga?
What are your favorite yoga poses?
What do you think is the key to a successful yoga practice?
What do you think are the benefits of meditation?
What do you think is the key to success in meditation?
We hope you liked these yoga teacher interview questions. If you have any other questions that you think we should add to the list, please let us know in the comments below!