Volunteering is an amazing experience, and you get to know new people and help together to change something for the betterment of society. This will be considered the first experience on your resume, making a lot of difference when you apply for the first interview.
We have compiled the volunteer interview questions and answers to help the interviewer and the candidate prepare for the interview. Volunteer interview questions will help you know what profile you are being offered. The questions are asked purely on your skills as volunteers.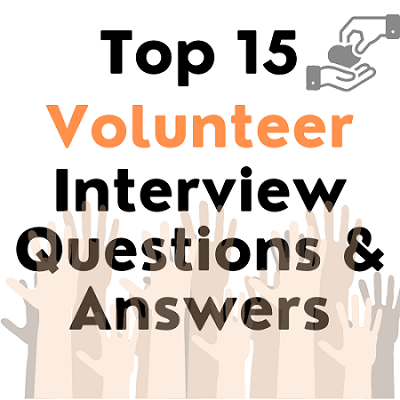 Volunteer Interview Questions & Answers
Why would you like to volunteer at our organization?
This will be most probably the first question that the interviewer will ask, and here, you can formulate your answer like that you are interested in the line of work the company does or the company has provided this opportunity. You will be benefitted from this experience and, if possible, work full-time in the organization.
Tell me about yourself.
Almost in every interview, this question will be asked to you, and we have prepared a detailed answer which you can find here.
Why do you do such work?
Because I think humanity has maximum power. The more you stay connected with people, you find happiness, learn new things, and get a reason to live, and experience new things daily.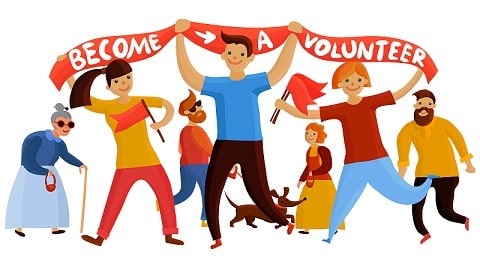 What extracurricular activities do you participate in?
There are several hobbies of mine that I keep consistent in my busy schedule too. These include- basketball, dancing on one song daily, help one or two people daily.
What do you think your experience has taught you in a career?
Doing a job that requires your time, interest, talent at a big scale often requires your experience, which teaches you a lot of things. My experience has been corrected in many ways possible. I have grown much in this field with my own mistakes and appreciation.
If you are given a chance to deliver training for the volunteer, would you be able to do so?
Yes, I will be able to impart much knowledge to trainees.
What will you include in your training?
My training will involve several steps which have to be covered-
Make the PPT which has much of the graphics required. (SUMMARIZE)
Explaining the role of the volunteer in different events (WHAT)
The need for this job (WHY)
Several examples which show the work done by volunteers (PRACTICAL)
Problems faced by volunteers (IMPACTS)
Activities that demonstrate proper role (HOW)
Questionnaire round followed by all (DISCUSSION)
What according to you is essential for volunteer ship- practicality or theoretical aspects?
Based on my work, I believe practical aspects are essential, and they contribute to experience. Deploying several plans and activities that can improve your work is crucial. Moreover, orientation programs should be attended when you get a chance because they give you much more knowledge.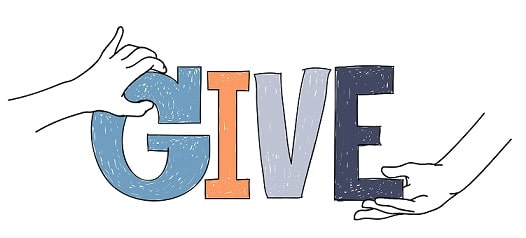 Tell us about your weaknesses and strengths.
My strength is my passion for my work, and I have chosen this work because of the interest area & my weakness is the completion of work at any cost within the deadline.
Quote any life situation where you have worked a lot.
In my last organization, there was a fire disaster in which 12 floors building was on fire. My work was to rescue all the people from the building and turn off all server rooms in the building. It was tough to manage 12 floors in just 10 minutes maximum. But I maintained my team so well that I was able to complete my work on time and at best possible.
How long do you want to volunteer for us?
Whenever you apply for any volunteering position carefully check the minimum and the maximum number of days the position is open in the organization. In most of the organizations the longer you stay the better it will be for the organization and you also as you will get working experience, this will open doors for you as sometimes organization hires volunteers.
How will you handle confidentiality in volunteering?
 There are various ways that I will try to follow and maintain confidentiality in the volunteering work.
If there are any secure premises given to us to work will not share batches, tailgating, or access cards with anyone.
Will make sure not to leave a confidential document on the desk unattended.
Whenever I go for a break will lock the computer system which I will be using.
Any personal data of the team members or the people will not share with anyone.
Before throwing any paper will, shred it.
Most of the organizations ask us to sign a non-disclosure agreement with some more steps, I will strictly follow them.
What makes a good team?
Every team is a combination of unique skills and talents and collectively, they share the experience here are some of the qualities which make a good team are:
Every team member should communicate with each other.
Respect each other and have trust in abilities.
Everyone should contribute their fair share in work.
Manage conflicts.
Everyone should focus on goals and results.
Good leadership is required to maintain a good team.
They should be together organized and streamline the work.
They should together have fun through team-building activities otherwise, it will lead to burnout.
Are you a people's guy?
Yes, I am a people's boy because I know people management well. I can lead very well my team and manage my work well with the team.
What are your expectations from our end?
I am ready to work for long hours and timely projects, but I need respect & value for my work always in return.
Do you have any questions for us?
We have prepared a detailed list of questions that you can ask the interviewer which can help more to understand the organization and your role in the organization. Detailed Article check here
Volunteer Salaries check here 
Volunteering is a very good concept, and it is a win-win for both employers and volunteers and has become very popular in recent years you should try to learn as much as possible from the employer. If you have not succeeded in the last interview do not feel sad about it learn from it and try to improve for the next one.
If you have already gone through such an interview, please share your experience in the comments, and we will try to make part of our volunteer interview questions article which may help someone.
All the very best.