This article is all about the ServiceNow versions names with their release date and what was introduced in that particular version and also will provide an overview of the ServiceNow upgrade. We have covered the activities
List of ServiceNow Version Release
Latest and upcoming versions of ServiceNow
How to upgrade your ServiceNow and what steps you have to take to successfully upgrade your instance.
How to check the current version of your ServiceNow instance
About ServiceNow
ServiceNow is an American software company that was founded in 2003 by Fred Ludy and its headquarters is located in Santa Clara, California, United States. The current CEO of the company is Bill McDermott. ServiceNow ranked 1 on the list of fortune 50 companies with long-term growth. Also, it is a fortune 100 best company to work for. They have 15000 employees working around the globe and round the clock.
ServiceNow is a platform as a service cloud-based IT and other process management tool which automates business and enables regular people to work efficiently with the help of ServiceNow. At first, ServiceNow introduced IT service management processes like Incident Management, Problem Management, Change, Configuration Management Database, and Knowledge Management.
Now ServiceNow offers services in IT Operations Management, IT Business Management, IT Asset Management, DevOps, Security Operations, Governance, Risk, and Compliance, HR Service Delivery, Legal Service Delivery, Workplace Service Delivery, Safe Workplace Suite, Customer Service Management, Now Platform App Engine, Now Platform.
ServiceNow is one of the best tools in the market which is easy to use and documentation is available freely there is a lot of courses that enable any user to learn more and then they provide professional certification like ServiceNow Certified Administrator.
You can also know more about this certification here ServiceNow CSA Guide
ServiceNow Versions
ServiceNow platform has improved a lot over the years, it has a long history of versions/ releases earlier for a few years it was 1 new version released per year but as the company and product grew have started releasing 2 new versions per year. Each ServiceNow version comes with new functionality and also the bug fixes which were reported in the last release by customers. All releases of ServiceNow release are in alphabetic order and start from A and are named after famous cities in the world. Below is the list of all ServiceNow releases till now.
Aspen
Berlin
Calgary
Dublin
Eureka
Fuji
Geneva
Helsinki
Istanbul
Jakarta
Kingston
London
Madrid
New York
Orlando
Paris
Quebec
Rome
San Diego
Tokyo
Utah
Vancouver
Xanadu
Yokohama
Zurich
Upcoming ServiceNow Versions
Washington
ServiceNow Versions History
When ServiceNow started their releases back in 2007, the first release was in summer 2007 and at that time releases were named based on seasons + year. So from 2007 to 2011, this was the version name or release name pattern that was followed.
Summer 2007
Fall 2007
Summer 2008
Winter 2009
Spring 2009
Fall 2009
Winter 2010
Spring 2010
Fall 2010
Winter 2011
June 2011
October 2011
After 2011 when the product started to boom and they adopted the city-based version name approach.
ServiceNow Versions Release Dates
| | |
| --- | --- |
| Versions Names | Release Date |
| Aspen | December 2011 |
| Berlin | 9/20/2012 |
| Calgary | 6/25/2013 |
| Dublin | 2013 |
| Eureka | 5/15/2014 |
| Fuji | 3/1/2015 |
| Geneva | 12/1/2015 |
| Helsinki | 5/12/2016 |
| Istanbul | January 2017 |
| Jakarta | June 2017 |
| Kingston | 11/16/2017 |
| London | 7/26/2018 |
| Madrid | 1/24/2019 |
| New York | May 2019 |
| Orlando | 3/11/2020 |
| Paris | Q3-2020 |
| Quebec | Q1-2021 |
| Rome | Q3-2021 |
| San Diego | Q1-2022 |
| Tokyo | Q4-2022 |
| Utah | Q1-2023 |
| Vancouver | Q3-2023 |
| Washington | Q2-2024 |
| Xanadu | Q4-2024 |
| Yokohama | Q2-2025 |
| Zurich | Q4-2025 |
ServiceNow Latest Version
Vancouver is the latest version of ServiceNow which was released in  Q3 2023.
How to upgrade the ServiceNow version
It is one of the activities every customer needs to do in 6 months or 1 year. Upgrading ServiceNow versions enables the instance with new functionalities and product fixes, but before upgrading, there are a lot of things that need planning.

There are some best practices that you can adopt to have a smooth ServiceNow version upgrade
Read the release notes for the version which you need to upgrade.
Analyze the functionalities which you are using in the current environment and what is included in new release notes for those functionalities.
Prepare your dev instance with a new version upgrade.
Verify the schedule through Support ServiceNow.
Upgrade your dev instance.
Test and fix if anything is impacted or broken.
Upgrade other instances.
Move the fixes to other instances.
Again test other instances and develop fixes.
Prepare for product upgrade.
Make an announcement to every user of production about the upgrade and highlight the impacts.
Upgrade production.
Share it with end-users.
You need to request ServiceNow support for the instance upgrade
Log in to ServiceNow Support
Click on the manage upgrade
Select your instance name DEV/QA/ UAT/ PROD and click on schedule.
A change request will be created based on the schedule selected.
How to find the ServiceNow version
Log in to your instance.
Type stats.do in application navigator and hit enter.
You will be able to get your instance version.

You can also do it by simply typing your baseurl + .service-now.com/stats.do as shown below in the picture.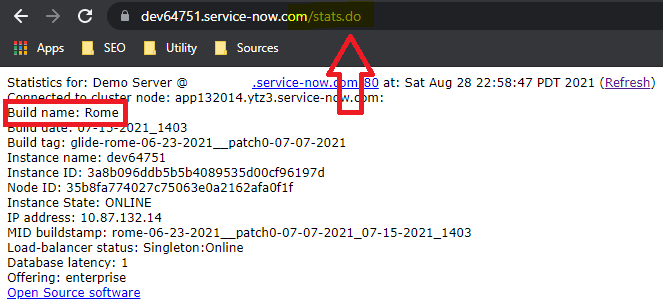 I hope this information will help you to check the current version of the ServiceNow instance and let you plan for the ServiceNow version upgrade. Do let us know if more information is required or any way we can help you to achieve more from ServiceNow.
Frequently Asked Questions
What is the ServiceNow version after San Diego?
Tokyo
What is the ServiceNow Version after Tokyo?
Utah
What is the ServiceNow Version after Utah?
Vancouver
What is the ServiceNow Version after Vancouver?
Washington
What are ServiceNow release schedules?
As per ServiceNow, there are two major releases in March and September.
How do ServiceNow name releases?
They are in Alphabetic order with global city names. Ex- Tokyo, Utah
How long the versions are supported?
ServiceNow supports the current/latest release and one prior to that and for every instance, ServiceNow provides an end date when they will stop support and do a force upgrade.
Does ServiceNow provide assistance in upgrades?
Yes, ServiceNow helps/supports each customer and their instances to have a successful upgrade. Every question asked is answered by technicians and also the account manager. For more visit instance upgrades.
Other Important Links
ServiceNow Interview Questions
ServiceNow Admin Interview Questions
ServiceNow Developer Interview Questions
ServiceNow CMDB Interview Questions