Building a good resume is one of the most important aspects before applying for any job and getting shortlisted for a role. In this article, we will share some key aspects of building a good ServiceNow Resume for developers, administrators, experienced, freshers, and Testers. This article will be based on the experience of various interviewers we have known from all over the world.
ServiceNow Resume
ServiceNow is one of the fastest-growing companies and there is a huge number of job profiles available in ServiceNow. There are companies that provide ServiceNow product services like HCL, Cognizant, Accenture, KPMG, and IBM, and they also month hire a lot of ServiceNow professionals. Thus a lot of people are searching for ServiceNow resume samples that can help them to structure their resumes for applying for a new job in the ServiceNow profile.
Whenever a resume is shared with a recruiter, most of them try to analyze whether skills fit the job description or not. Based on that only a recruiter will shortlist your resume. A good ServiceNow resume should highlight your skills and also the management skills you have performed in your current job with the certification you have acquired over the years. Certification provides validation that you have gone through the necessary training and exam. Some companies have a mandatory certification policy for any job profile.
ServiceNow Resume Samples
If you are applying for any ServiceNow profiles then you should have these highlights in your resume
Programming Language: HTML, CSS, Java, JavaScript, XML
Certification: Certified ServiceNow Administrator (CSA)
Optional Certification or Good to have certifications
Certified Implementation Specialist – IT Service Management
ITIL v4 Foundation
Should have written and verbal communication skills.
Resources
ServiceNow Interview Questions
ServiceNow CMDB Interview Questions
ServiceNow Resume Samples For Freshers
For freshers, it is important to share the certification and the knowledge they have about ServiceNow. Programming Languages like C, Java, JavaScript, API, Angular will be beneficial. SDLC Methods (Agile, Waterfall).
ServiceNow Business Analyst Resume
Modules: Incident, Problem, Change, Knowledge Management, SLA, Service Asset and Configuration Management, Service Catalog Management
Should know and highlight in resume about requirement gathering experience, ITIL framework, and ITSM processes, software development cycles (e.g., Agile, Waterfall, etc.) Gap analysis, Process mapping via ITIL, Business process reengineering, ITIL Foundations Certified v2 or v3 or V4, Microsoft Office applications
Additional Certification
Certified Associate in Project Management (CAPM)
Project Management Professional (PMP)
Agile SAFe
Scrum Master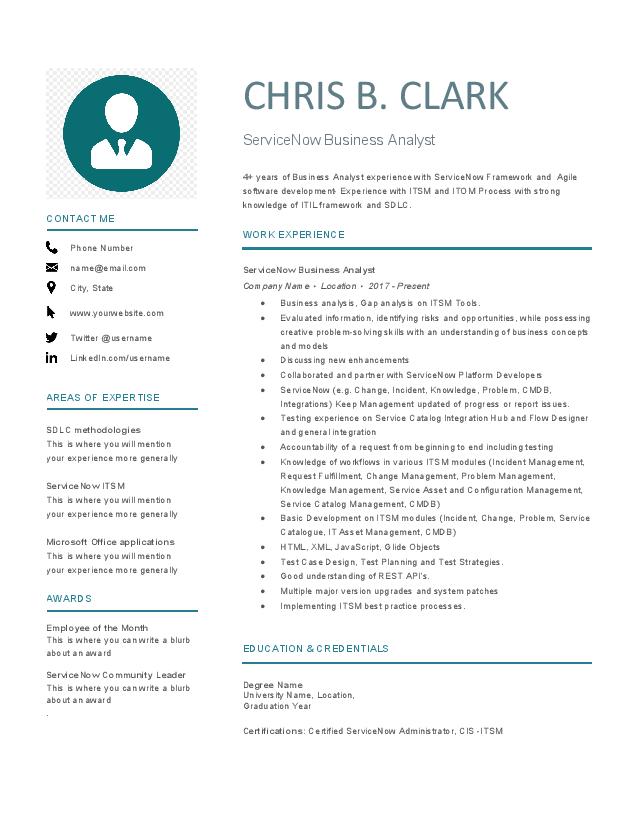 Download ServiceNow Business Analyst Sample Resume
ServiceNow Administrator Resume
Modules: Incident, Problem, Change, Knowledge Management, SLA, CMDB
Should know and highlight in resume work done on creating service requests, configure SLA, Import records, User and Group management, Upgrade, Update sets, Patching, Troubleshooting.
ServiceNow Admin Interview Questions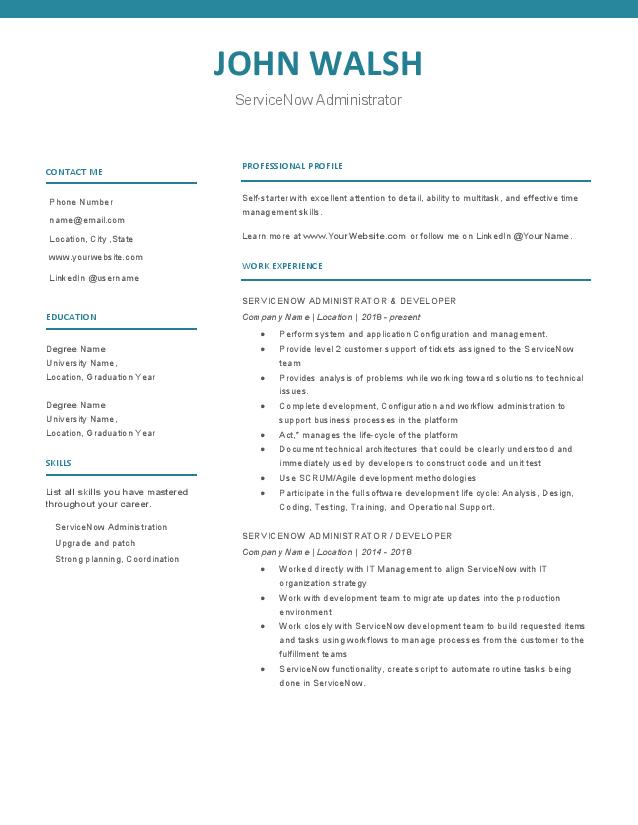 Download ServiceNow Administrator Sample Resume
Senior ServiceNow Developer Resume
Developers or Senior ServiceNow Developers Should know and highlight the work done on Business Rules, Client Scripts, ACL's, Notifications, UI Pages, UI Macros, Script Includes, Formatters, UI Policies, UI Actions, Service Portal, LDAP, Integrations – Rest and SOAP, PA, Agile Development, AJAX, JSON, XML.
Additional Certification
ServiceNow Certified Application Developer
ServiceNow Developer Interview Questions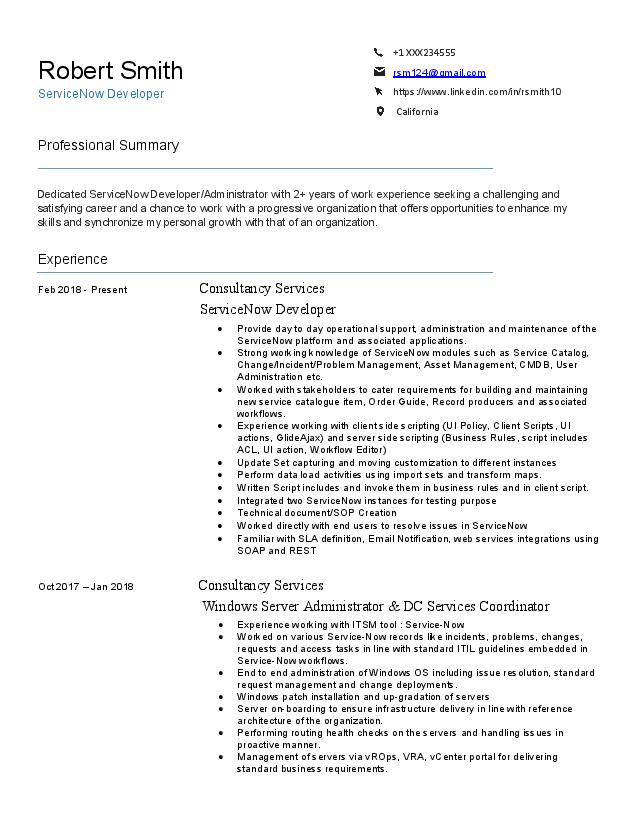 Download ServiceNow Developer Sample Resume
ServiceNow Tester Resume
Should highlight and know the work done on ITSM, Notifications, ServiceNow ATF test cases, Flow Designer, Workflow, Rest APIs, Agile Development, familiar with all browsers, AJAX, JSON, Upgrade, Activation of new plugins and modules. Create test cases and results achieved, functional module knowledge.
Additional Certifications
ServiceNow Micro-Certification – Automated Test Framework Fundamentals
Download ServiceNow Tester Resume Sample
ServiceNow HRSD Resume
Should know and highlight the relevant experience in HR and also should know the process of onboarding and offboarding of a resource, holidays, different types of leaves, legal rights of an employee, etc. Should have worked in HR module or developed, Implement the HR processes in ServiceNow.
Additional Certification
ServiceNow Certified Implementation Specialist – HR (CIS-HR)
or any other HR professional certification.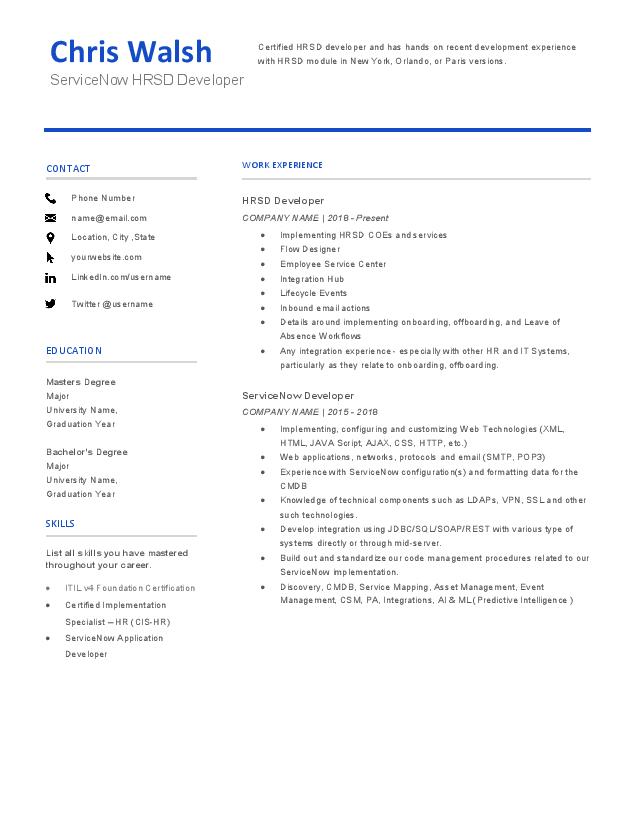 Download ServiceNow HRSD Resume Sample
ServiceNow SecOps Resume
Should know and highlight working of Incident, Security Incident, Major Incident Management, Security incident, Security Service request, Integration with security tools ex- Virus Total, IBM QRadar, Splunk, Qualys, Tenable, etc and best practices and standards like NIST, MITRE ATT & ACK, SANS Etc
Additional Certification
ServiceNow Certified Implementation Specialist – Vulnerability Response
ServiceNow Certified Implementation Specialist – Security Incident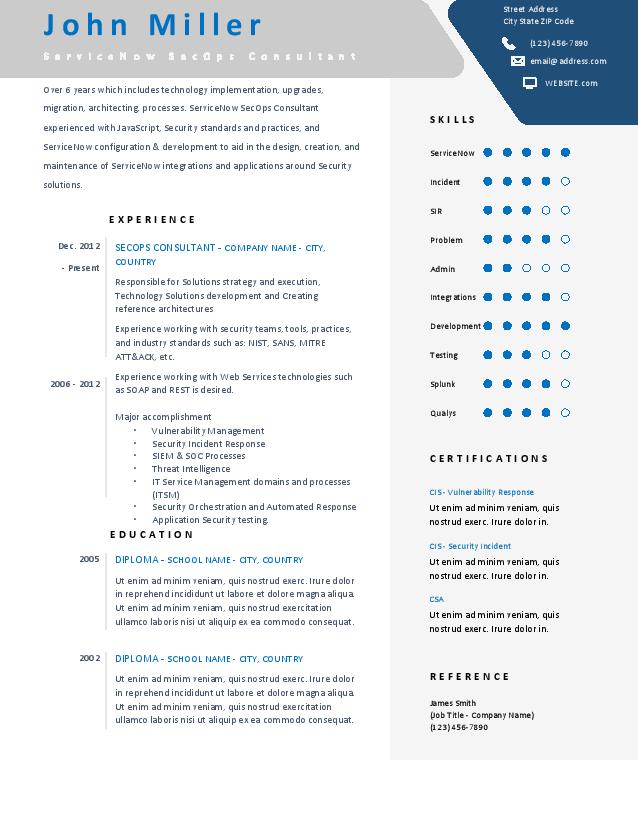 Download ServiceNow SecOps Resume Sample
Download ServiceNow SecOps Resume Sample
ServiceNow Resume Points
Resumes should be digital which means the file type you are sharing should be in doc, Docx, pdf, txt. Most of the HR and recruiters have recruitment software that can process your resume and fill information in the tool and most of the tools have pre-defined formats which they can accept.
Every resume should always contain below information
Contact Information
LinkedIn Profiles are a must to share nowadays.
Objective or Summary
Work history or professional history
Education history
Technical Skills
Certification
Achievements or Awards or Hobbies or any additional details
Languages
All the information written in the resume should be crisp and clear to the HR, recruiter, interviewer. You can download the resumes shared for different job profiles and edit them based on your experience and the position you are applying for.
Where to apply for ServiceNow Jobs
We hope that the information shared above will help you in your professional journey. Do not hesitate if any case you want to correct some information on the article or you want to share your experience with us through comments. All the very best for your future and if in any case, you need help with any topic related to ServiceNow that we can help do lets us know.