Revenue Inspector Interview Questions are asked on the very basics; some of them are written below with the best of answers. Revenue Inspector Interview Questions with Answers contain the queries which are based on candidate interests, skills, and job profile.
Revenue Inspector is a significant person who is the bridge between the accountants of areas and the collector. His chief work is to collect the revenue from different regions and assemble them to give to the higher authority. He maintains the link between the people who work under him and the ones who control revenue inspectors. The Revenue Inspector of different departments is collecting all the taxes.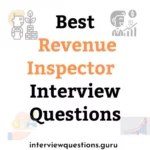 Revenue Inspector Interview Questions
Describe your character in 5 words.
Ans: Hardworking Intellectual Determined Jolly Leader- There are several characteristics too that match my working area and personality.
What are your strengths?
Ans: My biggest strength is my ability to work for longer works which makes me determined and focused on my work.
What is the key feature which you practice while working?
Ans: My crucial feature is to prioritize the work so that no prior issue is left unattended and the work is completed on time.
While you were studying, which subject have you liked the most?
Ans: I liked Maths until Class 10 and then liked Accounting.
What has been your successful experience till now?
Ans: I have worked as per the expectations of my company always and have brought several things into place. Solving and completing the work to the best of my ability. Once there was a crisis, which I had resolved with some simple tricks and tips.
Other Revenue Inspector Interview Questions
What is the job of a Revenue Inspector?
Can you describe a typical day as a Revenue Inspector?
Does Revenue Inspector need to be licensed?
What are some advantages of being a Revenue Inspector?
How do Revenue Inspectors plan their workloads in order to ensure efficiency and consistency throughout all their Districts/Regions?
What are the most common types of fraud that you have to deal with?
Do Revenue inspectors usually investigate large-scale international companies and individuals, or just individuals and smaller companies?
What is it that makes you well suited for this role?
For any suggestion/ complaint, you can write to us so that we can help you in any way possible.