Do you have an interview at Marshalls coming up? If so, you'll want to be prepared for the questions they're likely to ask. In this blog post, we will go over 20 Marshalls interview questions and the best answers for each one. We'll also provide some tips on how to prepare for your interview.
Marshalls Interview Questions and Answers
Tell me about yourself?
This common interview question allows the interviewer to get to know you better. Talk about your professional experience and qualifications, and interests.
Why do you want to work at Marshalls specifically?
I want to work at Marshall's specifically because I was impressed by the company's commitment to customer satisfaction. In my research, I found that Marshalls consistently ranks as a top retailer in customer service and satisfaction.
I know that working for a company like this would be a great opportunity to learn and grow while also providing me with the chance to contribute to the company's success.
Tell me something about Marshalls?
Marshalls is a leading off-price retailer with over 1000 stores across the United States. The company offers a wide variety of merchandise, including clothing, home goods, and more.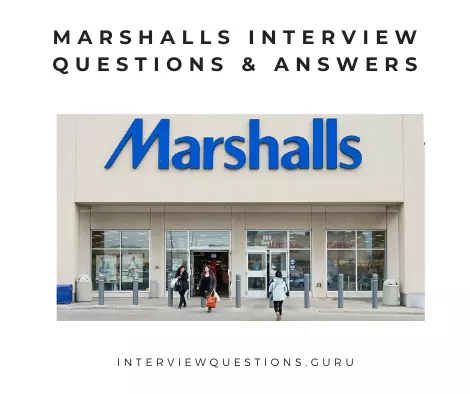 Why were you interested in retail?
I'm interested in being a retail associate because I have impressive communication skills and am passionate about providing customers with excellent service. My previous work experience taught me to listen to customers' needs and find the product that solves their problems.
I would love to use my experience and skills to contribute to this company's overall success by matching customers with the right products and increasing sales.
What do you think makes a great customer service experience?
A great customer service experience is efficient, personal, and tailored to the customer's needs. I believe that an efficient customer service experience makes the customer feel like their needs are being met in a timely and effective manner.
A personal customer service experience is when the customer feels like they are being treated as an individual rather than just a number. And a tailored customer service experience is one in which the customer feels like the company has taken their specific needs into account.
What are your strengths?
Some possible strengths you could mention include:
Being a quick learner.
Having great attention to detail.
Being organized and efficient.
Being able to work well under pressure.
Detail-oriented.
Excellent customer service skills.
What does teamwork means to you?
To me, teamwork means working together with other people to achieve a common goal. I believe that it's important to communicate effectively and collaborate with others to create a successful team.
Why should we hire you?
You should hire me because I am a hard worker with a strong passion for fashion. I am also very friendly and have excellent customer service skills.
Why should Marshalls hire you?
The following tips are recommended when answering this question
Be straightforward and confident about your abilities.
Highlight the reasons why you are the right candidate.
Be enthusiastic about why you want this job.
Confirm your ability to work hard.
How would you deal with an angry customer?
The following tips are recommended when answering this question:
Be patient and calm.
Empathize with the customer's situation.
Apologize for any inconvenience caused.
Attempt to resolve the issue.
If necessary, escalate the issue to a supervisor.
What would you bring to the Marshalls team?
I would bring my customer service skills and experience to the Marshalls team. I have a proven track record of providing excellent customer service, and I know that I could help contribute to the company's goal of providing outstanding customer service.
In addition, I would also bring my organizational skills to the team. I am very organized and efficient, and I would be able to help keep the store running smoothly.
What is your favorite brand?
My favorite brand is Marshalls because it is a great place to find high-quality clothes at an affordable price.
How would you describe your fashion sense?
My fashion sense is classic and timeless. I prefer clothing that will last for years rather than following temporary trends.
What is your favorite thing to shop for?
I love to shop for anything that is a good deal! I especially enjoy finding designer clothes or home decor at Marshalls because I know I'm getting an excellent product for an unbeatable price.
How do you increase sales?
There are a few ways to increase sales:
By providing excellent customer service and creating a positive shopping experience.
By finding new and innovative ways to market the products.
By offering promotions and discounts.
What do you think is the most important thing in retail?
The most important thing in retail is customer satisfaction. If the customers are happy, they will keep coming back.
What do you think sets Marshalls apart from other retailers?
Marshalls is unique because it offers a great variety of products at an affordable price. In addition, the store is always clean and well-organized, which makes shopping there a pleasant experience.
What are your goals for the next five years?
My goals for the next five years include working hard and providing excellent customer service. I would also like to learn more about fashion and trends to assist customers with their shopping needs better.
In addition, I would also like to continue developing my organizational skills to contribute even more to the store's efficiency.
Tell me about a time you overcame a problem and what you did to fix it?
I once had a customer who was extremely unhappy with her purchase. She was yelling and causing a scene in the store. I remained calm and attempted to empathize with her situation. I apologized for the inconvenience and offered to help resolve the issue. I got her a refund, and she left the store satisfied.
Can you work nights and weekends?
Yes, I am available to work nights and weekends.
What are your leadership abilities?
I am a capable leader, and I have a proven track record of success in leadership roles. I can inspire others to achieve their best, and I'm also very good at delegating tasks and managing time effectively.
In my previous role as a team leader, I was responsible for leading a team of five sales associates. We consistently met our sales goals, and I was commended for my ability to motivate and inspire others.
Conclusion
Marshalls is a great place to work and advance your career in retail. The company offers a variety of positions, from sales associates to store managers, so there is an opportunity for growth. In addition, Marshalls is committed to providing excellent customer service, which makes it a great place to work if you enjoy helping people.
We hope you like Marshalls interview questions and answers blog post. If you have any questions, please feel free to comment below.