Let us present you with 80+ must-know MAC Excel shortcuts!
What are the benefits of using shortcuts every day?
You will be able to work more efficiently. The same thing will take you less time and less time spent on work equals more free time for you and your family;
If you are currently looking for a job, knowing the shortcuts will increase your chances of getting hired. Fluent usage of the shortcuts will help you to stand out from the other candidates! Top 75 Excel Interview Questions 2022
Using a keyboard instead of a mouse decrease the risk of RSI (Repetitive Syndrome Injury).
Check also 80+ Must Know Excel shortcuts for Windows.
We have gathered for you the list of best Excel Mac shortcuts, both basic and advanced. All the shortcuts are grouped into categories to facilitate the navigation through the article. In the end, we have also included a list of useful links.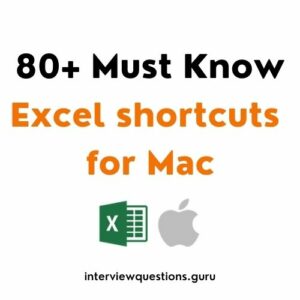 Most useful Excel shortcuts for Mac
Description
Excel shortcut
Create a new workbook
⌘ + N

or

Control + N

Create a new sheet
Shift + F11
Open a workbook
⌘ + O

or

Control + O

Close a workbook
⌘ + Q
Save a workbook
⌘ + S

or

Control + S

Save as
⌘ + Shift + S

or

F12

Print
⌘ + P

or

Control + P

Print preview
⌘ + P

or

Control + P

Full screen view
⌘ + Control + F
Copy
⌘ + C

or

Control + C

Paste
⌘ + V

or

Control + V

Cut
⌘ + X
Undo
⌘ + Z

or

Control + Z

Redo
⌘ + Y

or

Control + Y

or

⌘ + Shift + Z

Find
⌘ + F

or

Control + F

Bold
⌘ + B

or

Control + B

Italic
⌘ + I

or

Control + I

Underline
⌘ + U
Strikethrough
⌘ + Shift + X
Right-click menu
Shift + F10
Help
F1

Ribbon Excel Mac shortcuts
Description
Excel shortcut
Move to the next Ribbon control
Tab
Navigate among the items on the Ribbon
Arrow keys
Activate a selected button
Spacebar

or

Enter

Expand/Collapse the Ribbon
⌘ + ⌥ + R
Right-click menu
Shift + F10
Excel Mac shortcuts for navigating in cells
Description
Excel shortcut
Navigate among the cells
Arrow keys
Beginning of a worksheet
Control + Home
Next sheet in a workbook
Control + Page Down

or

Option + Right arrow key

Previous sheet in a workbook
Control + Page Up

or

Option + Left arrow key

Zoom in
⌥ + ⌘ + +
Zoom out
⌥ + ⌘ + –
Zoom scroll
^ + Scroll
Start a new line in the cell
Option + Return

or

Control + Option + Return

Select all (the entire worksheet)
⌘ + A

or

Control + Shift + Spacebar

Select the entire column
Control + Spacebar
Select the entire row
Shift + Spacebar
Cancel selection
Control + –
Excel Mac shortcuts for formatting cells
Description
Excel shortcut
Format Cells dialog
⌘ + 1

or

Control + 1

Fonts formatting
^ + Shift + F
Insert/Open/Edit a cell note
Shift + F2
Insert/Reply to a threaded comment
⌘ + Shift + F2
Insert cells
Control + Shift + =
Delete cells
⌘ + –

or

Control + –

Hide columns
^ + 0
Hide rows
^ + 9
Unhide columns
^ + Shift + 0
Unhide rows
^ + Shift + 9
Copy
⌘ + C

or

Control + C

Paste
⌘ + V

or

Control + V

Cut
⌘ + X
Undo
⌘ + Z

or

Control + Z

Redo
⌘ + Y

or

Control + Y

or

⌘ + Shift + Z

Find
⌘ + F

or

Control + F

Bold
⌘ + B

or

Control + B

Italic
⌘ + I

or

Control + I

Underline
⌘ + U
Strikethrough
⌘ + Shift + X
Insert hyperlink
⌘ + K

or

Control + K

Check spelling
F7
Other useful Excel Mac shortcuts
Description
Excel shortcut
Insert a table
⌘ + T

or

Control + T

Insert special characters
Control + ⌘ + Spacebar
Insert a function
Shift + F3
Create an embedded chart
Fn + ⌥ + F11
Create a chart in a new worksheet
Fn + F11
Create/Run/Edit/Delete a macro
Option + F8
Open VBA
Option + F11
Duplicate object
⌘ + D
FREE Mac Excel shortcuts PDF Download
More from interviewquestions.guru
25 Most common Excel Interview Questions for Business Analyst
40+ Best Excel Interview Questions for Data Analyst
Tell me about yourself in an interview
50 Questions to ask the interviewer
Useful links
"Excel Shortcuts: The 100 Top Best Powerful Excel Keyboard Shortcuts in 1 Day!" by Sam Key