When interviewing for a new job, one of the questions you will be asked is what can you contribute to the team. This blog post will discuss how to answer this question and highlight some key things employers look for when hiring new employees.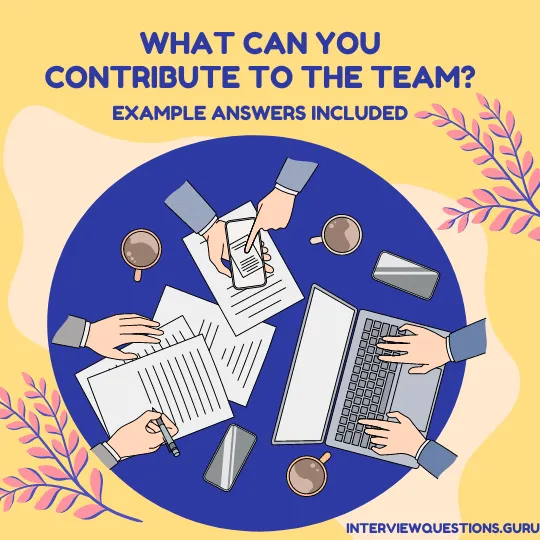 Why does the interviewer ask, "What can you contribute to the team?"
When interviewers ask this question, they try to understand what you will bring. Specifically, they are looking for qualities that make you a great team player and can benefit the team. It is important to emphasize those skills in your response. To answer this question effectively, you need to research the company and the position you are applying for.
How to Answer "What can you contribute to the team?"
When you are asked how you will contribute to the team, it is important to give a response that shows that you understand the team's goals and have the plan to help the team achieve its objectives. You want to ensure that your answer showcases your strengths and demonstrates that you are a valuable team member.
Start by describing the unique skills and experiences you can bring to the team. Explain why these skills and experiences could help the team reach its goals faster than if someone else was hired in your place. Additionally, discuss any other advantages you may have, such as being bilingual or having certifications or degrees related to the position.
You can also highlight any transferable skills you have acquired in previous positions. These skills may not be directly related to the current role, but they prove that you can adapt to changing environments quickly and effectively.
Explain the positive attitude and energy you will bring to the role. Your attitude is just as important as the skills and experience you possess. A good attitude is important as it can help create a positive atmosphere in the workplace and motivate other team members to work harder.
General Example Answers
As a team player, I am always looking for ways to contribute to the team to achieve our collective goals. I have a strong work ethic and am not afraid to roll up my sleeves and get stuck. I am also a good listener and always willing to take on board feedback to improve my performance. Regarding specific skills, I have a keen eye for detail and am very efficient in utilizing time and resources. These qualities would enable me to make a valuable contribution to the team. Ultimately, I am looking for an opportunity to utilize my skills and experience to add value to the team and help the organization achieve its objectives.
I am confident that I can be a valuable asset to any team. First and foremost, I am a quick learner and have a flexible skill set. I can quickly adapt to new environments and challenges and always work diligently to find solutions. Additionally, I have excellent communication skills. I can listen attentively and effectively convey information. This is especially important in team settings, where clear communication is essential for success. Finally, I am always willing to lend a helping hand. I work well under pressure and am never afraid to ask for help when needed. In sum, these qualities allow me to contribute in a positive way to any team dynamic.
Role-Based Example Answers
Marketing Executive
Marketing executives are often responsible for creating and executing marketing strategies. Describing your experience and knowledge of digital and traditional marketing methods can highlight your value. Here's an example:
As a seasoned marketing executive, I bring extensive experience to team projects with my strong understanding of digital and traditional marketing methods. With a track record of successful campaigns, I understand the importance of staying on top of industry trends to ensure that our company is always one step ahead. Additionally, I bring excellent organizational and communication skills essential for success in this field. My digital and traditional marketing strategies expertise can help the team reach our goals more effectively and efficiently. I am confident that my skills, experience, and knowledge can make me a valuable addition to the team.
Retail sales associate
As a retail sales associate, you can emphasize the customer service skills and product knowledge you possess. Here's an example:
As a retail sales associate, I bring to the team my strong customer service skills and extensive experience in product knowledge. My past experiences working with customers have given me invaluable insight into effectively providing exceptional customer care. Additionally, I have an in-depth understanding of the product assortment and am always looking for ways to upsell. My attention to detail and interpersonal skills make me an asset to the team. My knowledge and experience can help the team reach our goals with fewer obstacles.
Software Engineer
Software engineers are responsible for developing software to meet specific requirements. When responding to this question, it's important to highlight your technical skills and experience. Here's an example:
As a software engineer, I have significant experience developing applications written in various programming languages. My strong understanding of design patterns and algorithms allows me to create efficient and effective code. Additionally, I am highly skilled at debugging and troubleshooting software issues quickly. My knowledge of coding best practices helps me create scalable and maintainable applications which can help the complete team projects faster and with fewer errors. My experience and technical skills make me an ideal candidate for this role.
Conclusion
By carefully crafting your answer to the "what can you contribute to the team" question, you can show interviewers that you are an ideal fit for their open roles. Research the company and position before interviews so that you can explain why your skills make you a great asset during the hiring process. Doing this will prove to employers that you are the best candidate for their team.
Bookmark this article and refer back to it before each interview to practice your answers and ensure you're prepared to ace the "how will you contribute to the team?" question. Best of luck on your job search journey!