If you're looking for a personal trainer, it's important to ask the right questions to find the perfect one for you. A personal trainer can help you achieve your fitness goals faster and more effectively than if you were to do it on your own. But how do you go about finding the perfect personal trainer for you? This blog post will discuss personal trainer interview questions that will help you make the best decision possible.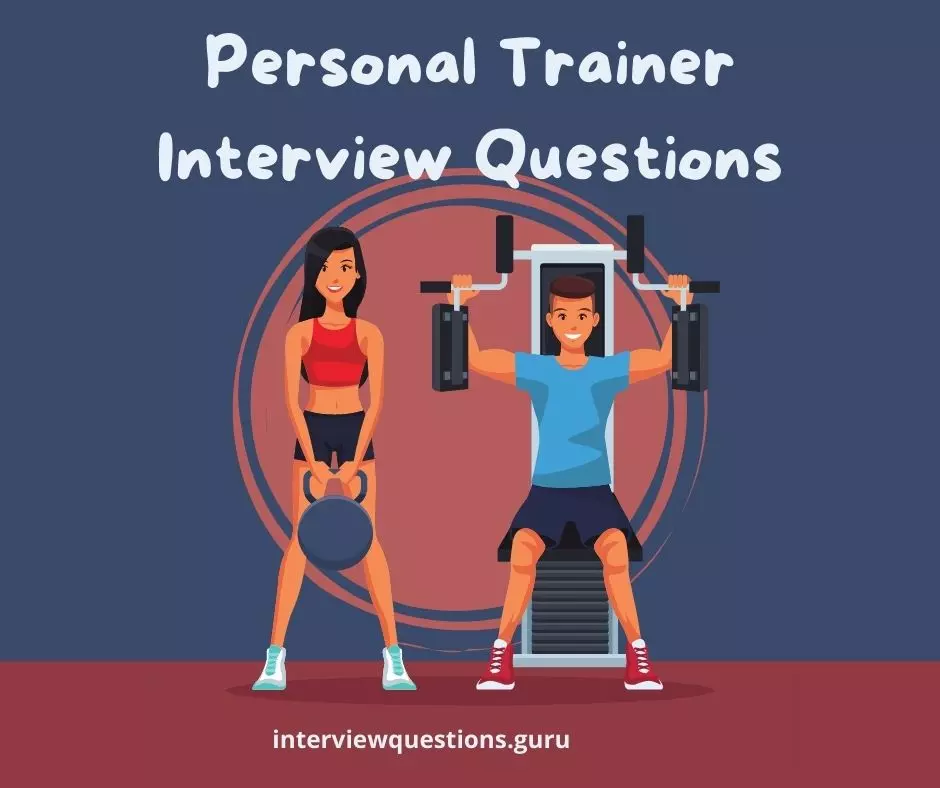 What does a personal trainer do?
A personal trainer helps you achieve your fitness goals by designing a customized workout program and providing motivation and support. They can also help you improve your diet and provide guidance on how to stay healthy overall.
What are the benefits of hiring a personal trainer?
There are many benefits to hiring a personal trainer, including:
You progress faster towards your fitness goals.
Provides greater accountability, motivation, and support.
Help to improve technique and form.
More efficient workouts.
Personal Trainer Interview Questions
What is your name?
How did you hear about this position?
What are your qualifications?
How do you design programs?
Why do you want to work as a personal trainer?
What kind of support do you offer clients?
How long have you been a personal trainer?
What kind of training do you specialize in?
What is your training philosophy?
What do you think are the benefits of working with a personal trainer?
Can you give me an example of a typical session with you?
Do you have any experience working with clients before (either through another job or volunteer/community service)?
Are there any client success stories that stand out to you? Why or why not? What was their outcome like, and what did they achieve from working with me as their trainer?
What is your favorite part about being a personal trainer, and why?
When did you become interested in fitness/personal training? Why did this interest develop for you?
Do you have any certifications or specialties that make your services more unique than others out there (such as weightlifting etc.)?
What are some ways to keep clients motivated while working with a personal trainer?
Interview Questions on Customer Service
Technical Questions 
How would you design a program for me specifically?
How do you keep up with current research on exercise, health, and nutrition?
How would you approach my goals if they're not realistic or unsafe?
What is your experience working with clients who have injuries or other limitations?
How do you determine what exercises to include in a workout? What does your typical workout look like for someone with the same goals as me?
What are some of the most common mistakes people make when trying to lose weight?
What are some personal strengths you have that make you an ideal trainer for me?
What do you think is the most important thing about exercise and fitness, other than sticking with any long-term program or routine for results.
How would your clients describe their relationships with you as a trainer?
Ending Questions
Do you have any questions for me?
Is there anything else you think I should know about your experience or qualifications?
Would you like to schedule an appointment to come in and observe one of my classes?
What is your cancellation policy?
What is your availability?
How much do you charge per session/month/year?
Can I request references from previous clients if necessary (and they are willing)?
In addition to qualifications, areas of expertise, and rates, you should also consider the personal trainer's personality. Do you feel like they will be a good fit for you? Can you see yourself working with them long-term?
Also, make sure to ask about the training facilities. Are they clean and well-maintained? Do they have the equipment you need?
Finally, be sure to ask about the trainer's insurance and liability policies. You don't want to be responsible for any injuries during your sessions.
Now that you know what questions to ask, it's time to start interviewing personal trainers! Be sure to take your time and choose the best one for you.
Interview Questions to Ask Clients
How many sessions per week are you looking for?
What is your budget for personal training?
When would you like to start?
What are your fitness goals?
What does a typical workout look like for you?
How often should you work out?
Are you currently working with a personal trainer or have any experience with them in the past?
Do you have any injuries or limitations we should be aware of?
Would you be comfortable working out with other people?
Do you want to work out at home or in the gym?
Do you have any questions for me?
Conclusion
These are just a few of the personal trainer interview questions that you may be asked during your search for the perfect trainer. By being prepared and knowing what to expect, you can make the best decision possible for you and your fitness goals. Good luck!